A Guide to Downtown Lander
Lander, Wyoming, is an outdoor recreation mecca, making it easy to spend so much time outdoors that you miss out on the in-town experiences. But, you should definitely make time to explore this charming mountain town. Spending some time in the historic downtown area is the perfect way to get acquainted with Lander. Main Street is lined with locally owned shops, eateries, and other small businesses that contribute to the community's appeal. Here's a guide to what you should see and do in downtown Lander. 
Food & Drink
Before heading out for a day of adventure, grab coffee and a bite to eat at Lander Bake Shop. This bakery has a great selection of made-from-scratch baked goods including bagels. Their breakfast bagel sandwiches will keep you full for hours. Crux Coffee also has tasty baked goods and coffee. If you're craving something healthy and delicious, The Rise is the place to go, offering a variety of fresh juices, smoothies, and more. Wanting to enjoy a more leisurely breakfast or brunch? The Middle Fork has all the classic breakfast and brunch items made with fresh local ingredients. All of these eateries are also excellent options for lunch. 
In the evening, head to Lander Bar or Gannett grill and wind down with a local beer and a burger. During the summer months, enjoy their garden area patio and maybe even catch some live music. Nextdoor, the Cowfish offers a slightly more formal (but still very casual) dining experience. Fun fact—hop plants are grown on the Cowfish patio and are used for the Lander Brewing Company's 'Local Yocal' beer.    
One of the newest additions to the food scene in downton Lander is an Italian bistro, Mulino. Their pasta is handmade fresh daily, which makes for absolutely scrumptious pasta dishes. Mulino also has an extensive wine list, making it the perfect place to enjoy a glass of wine, especially during the summer or fall, when you can sit on the beautiful patio.  
If you're in the mood for Mexican food, El Sol De Mexico is sure to hit the spot. An insider tip: try the margaritas. Be sure to save room for dessert so you can indulge in some ice cream or a milkshake at the Scream Shack, which is open every day during the summer.
Shopping
Downtown Lander has numerous local shops to stop in if you're looking for gifts, souvenirs, clothes, local art, or outdoor gear.
ALCHEMY is an excellent place to shop for unique, handmade gifts from local artisans. You'll find a variety of items for purchase including paintings, jewelry, pottery, and much more. Browse home decor items and home goods at Country Charm and Hello The House. Native American art, jewelry, beads, and books can be found at Indian Territory. Looking for t-shirts, cards, posters, and other cool items with original designs? Check out Snow Deep Designs. 
Women's and men's clothing boutique, Belles and Beaus, is a fun shop to stop in especially if you're searching for a perfect bag, piece of jewelry, or pair of shoes to accessorize an outfit.  
Outdoor enthusiasts will find plenty of shopping options to choose from in downtown Lander. For climbers, Wild Iris Mountain Sports is a must stop. Gear up for adventure and get insider tips from the folks working there on climbing, backpacking, and more. Gannett Peak Sports and The Bike Mill are the best places for bikers to get trail recommendations, shop for accessories, and have repairs done. Bike rentals are available at both shops. For winter adventurers, Gannett Peak Sports also offers cross-country ski and snowshoe rentals. The Good Place and Lander Fly Shop are great options for those looking for hunting and fishing gear. Located just a short distance from downtown, Wind River Outdoor Company also has a large selection of outdoor equipment. 
Art
Lander has a vibrant arts community that you can connect with by visiting the Lander Art Center to view the exhibits of local artists as well as regional and national artists.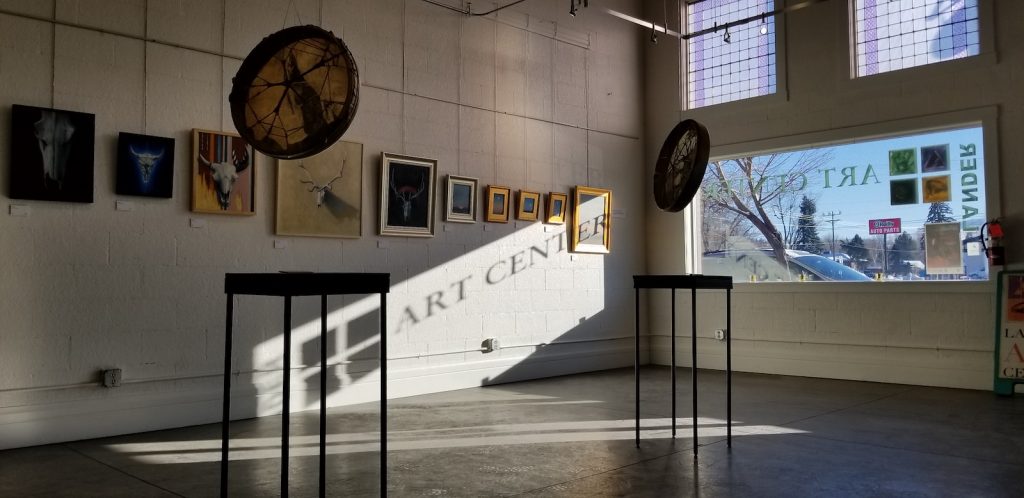 While you're strolling along Main Street, also keep an eye out for the electrical boxes wrapped with the work of local artists. 
More Things to Do
Enjoy nature close to downtown by taking a walk or bike ride on a nearby pathway. You can access a pathway right near the intersection of Main Street (Hwy 287) and First Street. Want to see a movie? Most evenings there's something playing at the Grand Theater. The Lander Children's Museum is the perfect place to keep kids entertained for a couple hours. If you have time, check out some of the other great museums in the area as well.
Lodging
In Lander, you're never too far away from downtown, but for those who want to stay right in the heart of town, there are a number of options. The Mill House is a boutique hotel with four beautifully decorated rooms. Also near the historic Lander Mill grain elevator is The Crib, a unique studio apartment. Another great option is the Downtown Studio Apartment. Pronghorn Lodge, located just one block from downtown right next to the Popo Agie River, also offers easy access to all that downtown has to offer.
When you're in the area, be sure to carve out some time to experience downtown Lander. Whether it's an entire day or just a few hours, it'll be worth your while and will help you develop a deeper connection with the Lander community!